Forrester Q&A on Automated Quality
As guest speaker, Principal Analyst Ian Jacobs of Forrester Research, recently shared on our Nov. 15 webinar, "Empower Your Employees with More Data, More Automation," that using technology to automate your quality program — from scoring through coaching — can produce real-life benefits to your quality team as well as your frontline employees, your customers and your company.
As a follow-up to this live event on automated quality management, he has produced a written response to the 5 important questions which he and Kristyn Emenecker of Verint addressed together. Read these valuable perspectives in the Automated Quality Webinar Q&A document.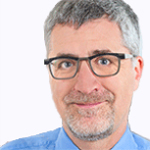 Ian Jacobs
Principal Analyst, Forrester Research
Ian advises senior customer service and customer experience executives on the technologies, processes and services that they use to win, serve and retain customers.