The Digital Tipping Point: Balancing Digital and the Human Touch in Customer Engagement
Digital Transformation is everywhere, disrupting industries and changing the way people live, work and engage. However, results from a research study from Verint and Opinium of 24,000 consumers and 1,000 businesses across 12 countries reveals that organisations need to balance both digital and human customer engagement to thrive – and to survive.

We took a closer look at the global data and extracted key insights from the Australia and New Zealand region, where a total of 4001 consumers and 39 business were polled. Our research reveals:
Disconnect between strategies and customer needs – The report's data suggests most businesses (87%) consider new channels such as mobile apps, email and SMS to be highly sort after as innovation and digitisation continue to makes leaps in the corporate world. However, only 33% of the survey's respondents use those digital channels that organisations are investing in.
Complexity plays a commanding role – If the task is simple, 59% of consumers will choose digital channels; If complex, up to 75% prefer human interaction.
Personalisation, security and privacy are top of mind – 89% want to know how secure their personal information is, 89% also want to know whether their data will be passed on to third parties for marketing purposes, however 4 in 5 consumers still want a personalised service.
Businesses acknowledge they need to work harder – 85% of ANZ B2B organisations said that customer service online and via mobile devices needs to be faster, more intuitive and better serve customer needs.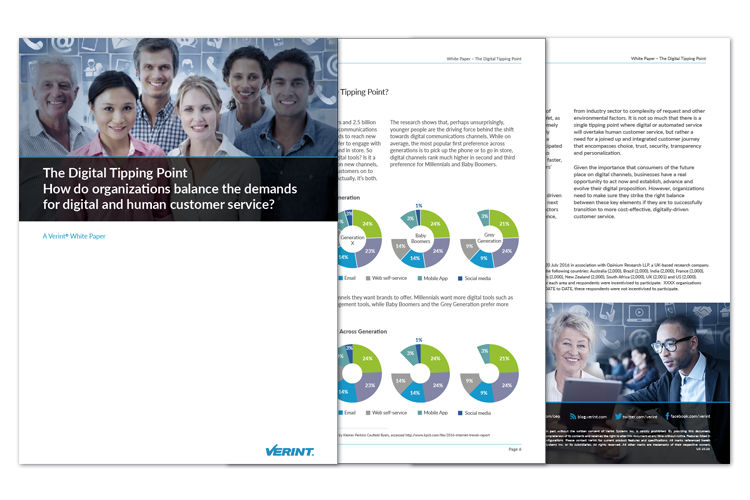 How do organisations in the ANZ region balance the demands of the digital and human customer?
Verint together with Fifth Quadrant have disected the regional data and explored the key insights from the research to outine six steps to improve the customer journey in an increasingly digital world.
Research Paper »